Coolpad FRP Bypass Google Account Verification FRP lock By this solution you can unlock android lollipop 5.1.1, Marshmallow 6.0.1, Nougat 8.0. You can unlock the coolpad with UMT box and also with miracle box these solution based on step by step which is easy to understand.
Coolpad Bypass Google Account Verification FRP lock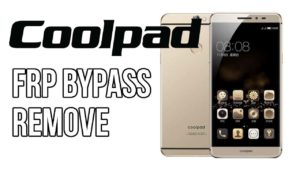 After the phone factory reset it will reboot and you will be prompted lock. you just lost your phone and another person found it. Normally, this person will not be able to use the phone if you have already set up a screen lock pattern or security PIN.
How to bypass Coolpad FRP lock. 3622a, 3632a, cp3636a
Bypass Google account without OTG Coolpad 3503i, Note 3 plus
Required.
instruction
Connect the phone to a Wifi Network (preferably your Home network)
The next screen will ask you for the Google Account
click the text field in which the account should be inserted until the Keyboard comes up
click and hold the "@" character until a Settings menu pops up
Select Google Keyboard Settings
click on the 3 dots in the top part of the screen (or More depending on what Android OS you are running)
Select the Help&Feedback item and select any item in the list that will follow
Long press to select any text on this page and click on Websearch in the upper right corner
A search field will be shown (delete the text inside the search field)
Type Settings in the search field
click "About Phone" and click 7 times on the Build Number to enable Developer Options
Return to the previous menu and open the Developer Option that just appeared
Allow OEM Unlocking and click Back two times
Restart the device
Connect it to Wifi again
Notice how you won't be prompted to log in the previous Google Account and instead the phone will ask you to ADD a new Google Account
How to hard reset Coolpad 3632a factory reset
You can hard reset the device from settings and you can also hard reset from the key combination.
Coolpad Note 6
Coolpad Cool 2
Coolpad Mega 4A
Coolpad A1
Coolpad Cool Play 6C
Coolpad Cool M7
Coolpad Note 5 Lite C
Coolpad Defiant
Coolpad Cool Play 6
Coolpad Note 5 Lite
Coolpad Conjr
Coolpad Cool S1
Coolpad Note 3S
Coolpad Mega 3
Coolpad Cool Changer 1C
Coolpad Note 5
Coolpad Mega 2.5D
Coolpad Note 3 Plus
Coolpad Max
Coolpad Note 3 Lite
Coolpad Note 3
Coolpad Rogue
Coolpad Dazen X7
Coolpad Dazen 1
Coolpad Cool 1 Dual
Unlock Coolpad E2 FRP Miracle Box
Bypass FRP Coolpad cp3636a by UMT box