Updated Remove FRP Samsung Galaxy J7 Prime (G610f, G610Fn) Samsung Galaxy J7 Max (G615f, G615fn) This solution is also working in other Samsung galaxy mobile which has Launched in 2018.
Step by Step Remove FRP account in Samsung Galaxy J7 Prime/Pro/Star
In this solution we are going to use Tango FRP Alok are told to unlock Samsung galaxy mobile.dissolution is also working in J7 prime J7 pro J7 star if you have found any trouble while unlocking your device you can ask me in the comments section.
Samsung Galaxy J7 Prime Pro Start FRP Tools (Required)
If you send money by not account in any Samsung galaxy mobile well it means that my device is locked by check three protection. (This device was reset. To continue, sign in Google account that was previously Synced on the device)
After reaching lock screens used to finger on the screen by pressing one feel it will turn on Talkback tutorial you will see. (Talkback screen Response primarily for people with blindness and low weasel it allowed instruction with the device using the spoken feedback).
1 1esson basic navigation
2 lesson Scrolling
3 lesson talk back
Here you have to create L guess you're using one finger on the screen. After you create Alcacer you will see Menu with items (Global context menu, read from top, read from next item, repeat last a trance, spell the last advance, copy last address to clipboard, pause feedback, talkback settings, next to his speech, Dimi screen) select Talkback settings.
After selecting Talkback setting down of talkback by pressing the home button three times. Scroll down and select any feedback option. Honda help screen like to get started with white access, when you will see a video clip. Click on clock icon Now it will open YouTube application.
Open Chrome Browser in Samsung Galaxy J7 Prime Pro Star
Now select chrome I can and except and continue and then click now thanks. Click on you I will field and enter Google account manager Pangu.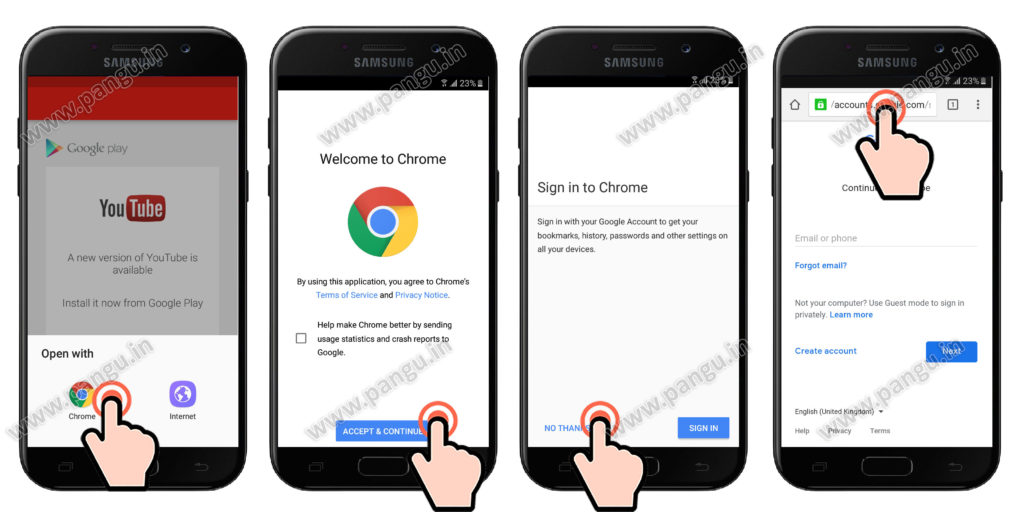 Download Google Account manager Samsung Galaxy J7 Prime Pro Star
You will see Google results select the first result from poor.in and download Google account manager APK 6.0.1. when you click on the download button. it will ask you the permission. click on update permission when you will see (chrome need a storage access to download files).
Click OK when you will say (This type of file can harm your device. Do you want to keep file anyway?). Double tap on the downloaded file you will see (for security your phone is said to block installer installation of apps obtained from unknown sources) enable unknown sources.
click on Install when you see (Do you want to install an update of this of this application for extracting data will not be lost but it does not require any special access.). Install Google account manager click on the done button.
Download & Install FRP unlock APK in Samsung Galaxy J7 Prime Pro Star
Now I am going to download Pangu FRP account login tool. Go to Google and search Pangu account login tool. click on the first result click on download button click okay double tap on downloaded file install Pangu FRP account login tool.
Enter New Gmail Account In Samsung Galaxy J7 Prime Pro Star
After installing Pangu FRP account login tool clicks open. Here you can enter your new Gmail ID and password. click on 3 dots menu and click on browser signing. Here enter your new Gmail account and password and click on sign in button.
After signing press power button for 10 seconds and click on restart button can you start your device will be on set up the screen.
Samsung Galaxy J7 Prime Pro Start Successfully Unlocked
Complete the initial setup by pressing next what is the button. agree time and condition then click next.
Account added in Samsung Galaxy J7 Prime
When your device reaches on account setting it will sure you Account added and you will see ( Your account is ready for use dry you can add and remove account later in settings).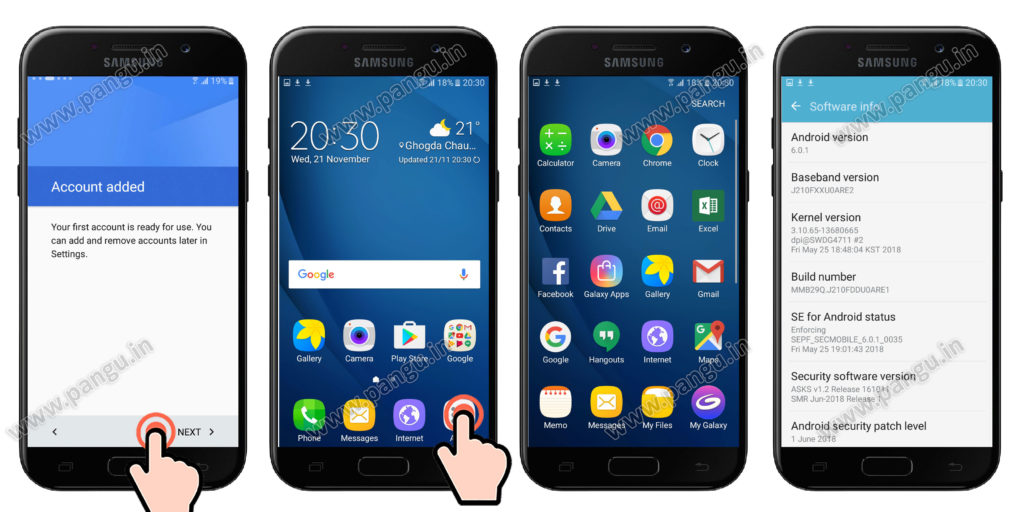 You have successfully unlocked Samsung galaxy J7 prime. Samsung galaxy J7 pro and Samsung galaxy J7 a Star by following day step-by-step tutorial. If you have found any issues while purchasing not unlock then you can ask me in the comment section.